EM31 Operation with the EM31-MK2 Program on Archer
Learn how to use the EM31-MK2 data logger program on the Archer Field Computer in conjunction with EM31 instrumentation to conduct a ground resistivity survey.
The EM31 is typical used by geophysicists, geologists, and engineers to map soil materials, groundwater contaminants, buried metal, or any other subsurface feature that affects ground conductivity. The EM31 reaches a maximum depth penetration of about 6 meters or 20 feet.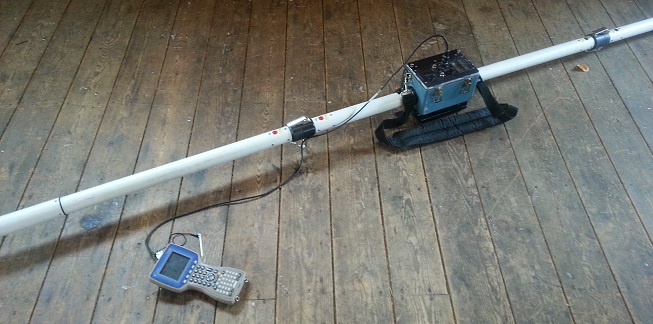 EM31 with a Field Computer
Within this course are step by step guides to each EM31-MKA data logger menu. These menus include Survey Setup Menu, Logger Setup Menu, Set GPS Port Menu, Display Options Menu, Monitor /Log Menu, and View Files Menu. Calibration and functionality checks are also included to ensure the user has a successful and accurate survey.
Instructions concerning the DAT31W program are also available. The DAT31W program is a computer program for the office or home computer that allows the user to view, convert, and interpret EM31-MK2 Files. Learn how to install the DAT31W program, transfer files from the Allegro, and convert them into the proper file format for post-processing. Further DAT31W lessons are likely to added into the future to help users with post-processing.
Note: EM31 Assembly can be found in the Geonics Equipment Assembly Course. This assembly lesson also contains initial set-up checks and instrument nulling to help the user get started.
Lessons: