EM61 Operation with the Data Logging Program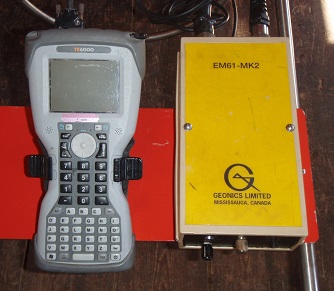 TK6000 and EM61-MK2
Learn how to use the EM61-MK2A data logger program with the TK6000 data logger.
The EM61 in conjunction with the TK6000 Field Computer are commonly used to detect ferrous and nonferrous objects such as old metal drums or unexploded ordnances. Depth of penetration is dependent on target characteristics such as type of metal, surface area, and orientation. A 55 gallon drum can be found at depths greater than 3 meters or about 10 feet.
Within this course are step by step guides for each EM61-MK2A data logger menu. These menus include Survey Setup Menu, Logger Setup Menu, Set GPS Port Menu, Set Output Port Menu, Display Options Menu, Monitor /Log Menu, and View Files Menu.
Instructions concerning the DAT61MK2 program are also available. The DAT61MK2 program is a computer program for the office or home computer that allows the user to view, convert, and interpret EM61-MK2A Files. Learn how to install the DAT61MK2 program, transfer files from the TK6000, and convert them into the proper file format. DAT61MK2 are different than raw EM61 data logger files. Further, DatMK2 program files will continue to be added to this course to help with post-processing.
Note: EM61-MK2A Assembly can be found in the Geonics Equipment Assembly Course.
Lessons: